About WIDE & Coding
We are one of the pioneers in advocating coding education in Luxembourg as well as organizing related workshops for women and men. We have started back in 2013 and since then, we have helped more than 500 women to have a go at coding.
We've been also very active as part of the EU CODE WEEK initiative or were featured in an article on the startup scene in the New York Times.
We don't just teach — we organize activities in a fun, friendly and supportive environment. So far we've regularly covered computer languages such as PHP, JavaScript, Ruby on Rails, HTML, CSS or SQL.
UPCOMING EVENTS
One-week coding & web development training
If you are interested in starting with coding, you can join our one-week coding & web development training in January 2020. Learn the basics of web development and programming – HTML, CSS & JavaScript – with our specialized trainers!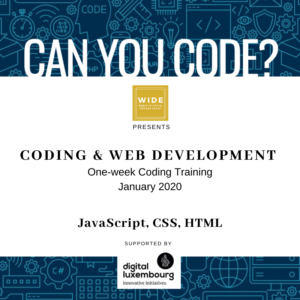 When? 27th – 31st January 2020
Where? House of Startups (9 Rue du Laboratoire Luxembourg, 1911)
Minimum 8 participants for the course to be organized.
For more information, don't hesitate to contact us by mail at coding@women-digital.lu.
Interesting to join upcoming sessions? Please register your interest here

Saturday coding sessions
Also, for those who are not able to attend the workshop during the weekdays or are just more interested in less intensive weekend training, we decided to organize Saturday HTML & CSS coding sessions.
November 9th, 16th, 23rd, 30th
December 7th, 14th
Morning : from 9am to 1pm
We won't ask you any contribution for WIDE but we encourage you to make a donation to the CID
RECENT CODING ACTIVITIES
January 2020 – One-week Coding Workshop
September 2019 – Coding and Web Development
Summer School 2019 – Web & Development training
Coding & Web Development training in November
Code your Spirograph with "Python" workshop
Rails Girls Luxembourg 2018
We are proud organizers of Rails Girls for the 6th time in Luxembourg in October 2019. Almost 50 girls and women had an opportunity to get in touch with Ruby on Rails and with the great support of our specialized coaches managed to code their own app.


Coding & Web Development training in November | WIDE 2018