Starting in 2017, we took part in The "Gender4STEM" project which has been recognised in 2020, as an example of good practice by Erasmus+ at European level for its awareness-raising and teacher training tool on the issue of equality in STEM (science, technology, engineering and mathematics) education in schools.
As a continuation of the project, WIDE (Women in Digital Empowerment) therefore decided to continue its efforts in Luxembourg.
In partnership with the LIST (Luxembourg Institute of Science and Technology), we aimed to support high schools and teachers with the "Gender4STEM in Action" project. A dozen of them joined our training courses and participated in the implementation of good practices in their classrooms.
After one year of collaboration, a closing event took place on Thursday, October 21st at the Lycée Aline Mayrisch in Luxembourg. From 15:00 to 17:00, the public present on site and online had the opportunity to learn more about equality in science and to exchange and identify good methods to be implemented in schools through inspiring talks.
The conference started with a welcome speech by Mrs. Carole Chaine, school director from the Lycée Aline Mayrisch, followed by Marina Andrieu, managing director and co-founder of WIDE.
The second part of this closing event was dedicated to empowering testimonials from different women studying or working in STEM:
Camilla Hurst, 3rd year Engineering Masters student at Oxford University
Valérie Maquil, Senior Researcher at LIST
Claire Lee, Associate Scientist and Special Advisor for International Engagement at Fermilab in CERN
Our three speakers shared their experiences and passion for their jobs or fields of study, as well as their advice on how to attract girls into STEM.
In the last part of the event, teachers who participated in the project shared their feedback. Our collaborator from the LIST, Marie Gallais, moderated a hybrid panel with Eleonora Morga, (Lycée Technique du Centre), Karine Guillaume (Lycée Technique Lallange) and Gerson Rodrigues (Lycée des Garçons Esch/Alzette). She also invited our speakers to participate. We were able to get input as well as new ideas of development for the future. Our guide "Five good practices to promote gender fairness in teaching STEM" that gathers good examples of teaching methods implemented by the participants in their classrooms was also presented and distributed to the audience.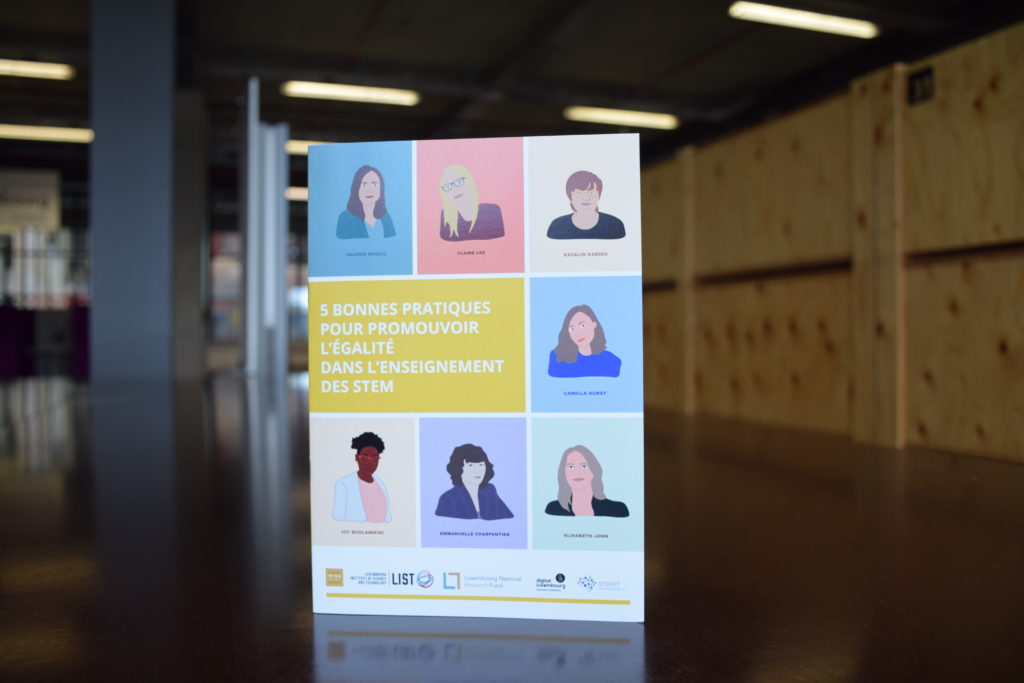 This project was made possible thanks to the support of the FNR (Fonds National de la Recherche, programme PSP), Digital Luxembourg – Service des médias, des communications et du numérique, and the SCRIPT (Service de Coordination de la Recherche et de l'Innovation Pédagogiques et Technologiques). We also thanks the IFEN (Institut de Formation de l'Éducation Nationale), for supporting our event.