Promoting gender equality in your organisation
June 3 @ 9 h 00 min

-

17 h 00 min

€450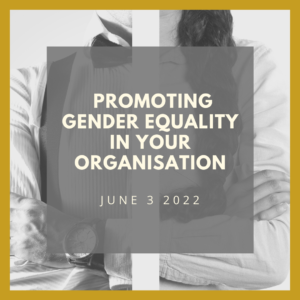 Are you interested in understanding how gender equality can be promoted in an organisation?
Do you want to see how anyone can be an agent of change at their own level?
We are proposing an interactive training based on sharing experiences on June 3, 2022.
You can register your interest here.
Description of the session:

Gender equality as part of Diversity & Inclusion, why people and organisations need to act?

The current state of the gender gap at work and education, latest research

Gender pay gap, glass ceiling, maternity and child care issues

Common stereotypes and biases

Gender policies

What is no longer acceptable in a company

Advocating for gender equality
The one day session  will have the following objectives:
Understand how gender equality can be promoted in an organisation and the role of companies / employers

Understand the main systemic, societal and individual barriers to overcome

Be aware of gender biases and stereotypes at work

Dare to talk about the importance of gender equality in an organisation, from informal discussions at the coffee machine to the board room

Identify how you can become an agent of change in your company
Price for the training: 450 euros.
Session organised by WIDE ANDCO S.I.S
Organisme de formation agréé 10130193/1
TVA: LU33301465 – Autorisations: 10130193/0 – Agrément ministériel S.I.S. du 26/01/2022 – RCS: B257069
WIDE ANDCO SARL-S
Société d'Impact Sociétal (S.I.S)
29, Boulevard Prince Henri
L-1724 LUXEMBOURG