FemSTEM pilot session
28 June 2021 @ 13 h 00 min

-

1 July 2021 @ 15 h 30 min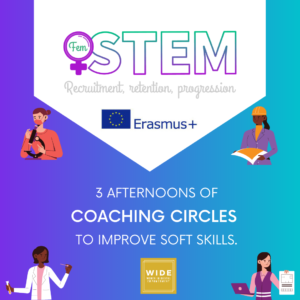 It's time for the first FemSTEM pilot session!
The pilot test of the FemSTEM coaching programme and its online platform will take place online on Monday 28 June, 5 and 12 July in the afternoon from 1 to 3:30 pm.
During these 3 sessions, all participating women in STEM will receive the Coaching Circles™ training to improve their soft skills.
FemSTEM Coaching Circles™ are based on an innovative, personal development training methodology established by our UK partner, Inova Consultancy Ltd. The methodology is based on action learning, coaching, and mentoring techniques, and uses self-reflection exercises and tools to help participants build confidence and self-efficacy and develop soft skills.
The Coaching Circles™ will enable participants to:
– Improve self-reflection,
– Enhance confidence,
– Develop goal setting techniques,
– Manage stress, change, conflict, etc. which may arise from career development, career breaks, or finding a first job,
– Increase self-efficacy and assertiveness in a professional capacity.
Participation is mandatory on at least 2 out of 3 sessions to be counted as valid.
Registrations are open here: https://forms.gle/AjwUmw2A6Ggvxk6v6