The smart guide to online safety
7 June 2019 @ 9 h 00 min

-

12 h 30 min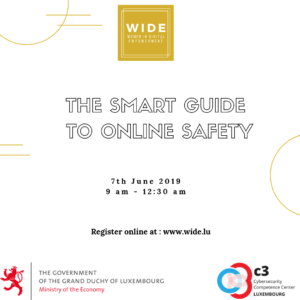 The Ministry of Economy in partnership with C3 (Cybersecurity Competence Center) and SECURITYMADEIN.LU
are offering an introduction training to Cyber Security for women.
Content:
Know and refresh your basics. Raising awareness and "Best Practices" on cyber sec do and dont-s (tips).
Even if a lot has been said on personal online safety, this module will serve as a reminder of Cyber Sec basics. The goal is also to allow women to explain to others the importance of how to stay safe online and show and promote to others basic procedures.
The content will be directly inspired by C3 – SECURITYMADEIN.LU training.
This is part of our new "raising awarness in Cyber Security" programme supported by the Ministry of Economy.
This training is for beginner level. Capacity limited to 20 participants.
If interested, please register here.