Rails Girls Luxembourg 2019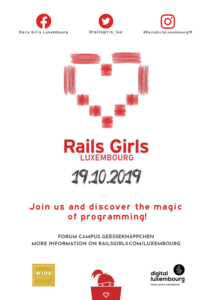 Rails Girls is a free one-day workshop for women and girls (from 13 years old) organized in partnership with Digital Luxembourg. Participants will have the chance to discover the magic of programming, take part in digital-related activities & will be guided by coaches to create their first app.
→   When? Saturday 19th October 2019
→   Where? Forum geesseknäppchen
→   Price? This workshop is for free but with limited seats. Register via the link below to save your spot.
The event will be facilitated in EN | FR | LUX | DE.
Registrations are now open!!!  https://forms.gle/qvh5aM8YBEN7oDuAA 
Be sure to apply before 5th October.
If you want to become a coach for this edition, check out the following guide! WIDE_ Rails Girls coach 2019