WIDE Video Games Competitions
7 June 2019 @ 19 h 30 min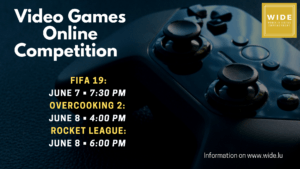 A more various and diverse population of gamers is emerging and WIDE wants to support this trend, by organising competitions which support girls more.
Therefore, we  planned new online competitions for three different games: FIFA 19, based on PlayStation 4 and Overcooked 2 and Rocket League, both computer based.
These competitions are going to take place on QuickContest, a dedicated online platform.
This platform will allow us to manage subscriptions, follow the game progress and give us, by being their moderators, the opportunity of acting as third neutral party. Everybody will equal on the starting ground. Nonetheless ,we must operate under meritocracy criteria and reward winners. Lastly, every final winner will receive a 30 Euros voucher as a reward.
Do you want to register? Just follow the steps on the video below!
For more information, please contact: giacomo@women-digital.lu.