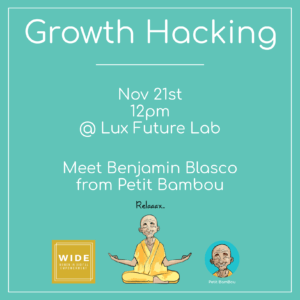 Growth Hacking with Petit BamBou
When?
November, 21st at 12 pm (Lunchtime- no one likes to meditate, nor communicate on an empty stomach, so no worries, we WIDE-covered the sandwiches part!!!)
Where?
FutureLab, Luxembourg
59 Boulevard Royal
Why Petit BamBou?
Simple answers:
– Because we all live in today's reality
– Because Petit BamBou is the leading mindfulness app in French with more than 1 100 000 users and a Facebook community of about 890 000 zen users, a community which by the way is "a smiling and positive community concerned with wellbeing, meditation and serenity" , "a ZEN village who stands against everyday's ambiental stress"…and WE ALL KNOW WHAT THAT IS!!!
Why Growth Hacking?
Bam! Answer: because it is the FUTURE, when it comes to Internet products, because it has to do with viral online marketing ; because it is particularly efficient for startups; because it is a less expensive alternative to traditional marketing and is all about being active, honest and consistent on your social media platforms;; because it is smart, and fun and across channels and it has a long term approach;
Because Benjamin Blasco, co founder at Petit BamBou, will be there for an informal talk to share his experience. Initially, Benjamin relocated to Luxembourg to work for PayPal in 2013 and in January 2015 he founded together with Ludovic Dujardin 'Méditer avec Petit Bambou'. What followed after… let's just say that Petit BamBou app is today available on GooglePlay, and for both iphone or ipad. Can you guess his motto?! It is simple!
Don't forget to breathe!
Want to register?